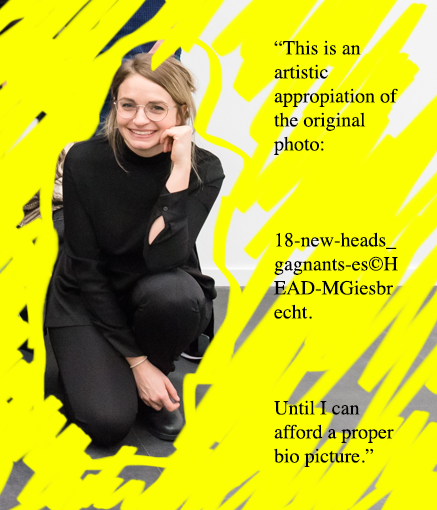 I am an independent researcher* and designer working at the crossroads of Media, Design and Biology. Trained as product design engineer and media designer, I create fictional scenarios embedding people, living organisms and matter into devices forming new media ecologies. Also, I nourish (from) and believe (in) the middle-ground (communities of hackers / artists / citizens working in alternative spaces) to have the power to subvert the dominating role of traditional science and technology spheres and therefore, guide us towards a more inclusive knowledge production. I research about the role of a designer to influence the social imaginary through workshops and interfaces that focus on the radical poetry of the nonhuman.

I hold an Engineering Degree in Product Design (Mondragón Unibertsitatea, 2008) a Post-Grade in Product Conceptualization and Development (Elisava, Barcelona, 2010) and a Master of Media Design (HEAD-Genève, 2016); where I received a honorary mention for her final Master project "Camera Obscura et les artefacts de l'invisible" in collaboration with Dr. Sachiko Hirosue and Dr. Robin Scheibler from "Biodesign for the Real World". Currently, I am an independent researcher at Hybridoa and co-president of the Hackuarium biohackerspace (Renens).
I organize collaborative workshops about critical, speculative and biological design; often with Hackuarium, Utopiana Geneva, Hackteria, and collaborate with the Open Science School (CRI, Paris) and EFPL (Bioinspired Lab).